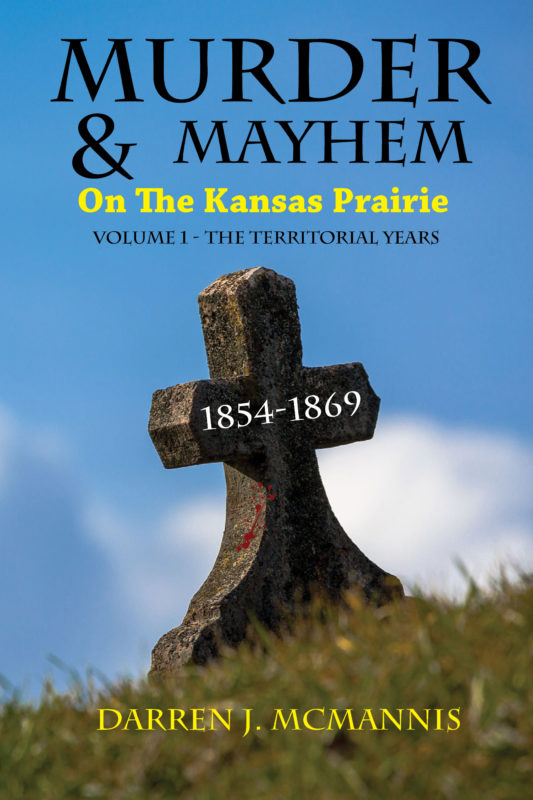 Eyewitness accounts of over 400 murders that shocked the State and the Nation!
This is not a true crime book filled with my assumptions - this is the actual first-hand news in the editorial style of the actual reporters and editors from these Territorial years on the Kansas prairie!  Purchasing this book will also give you access to continued updates to the stories as they are found, along with new "old news" stories of murder during this time period.  If you enjoy real life history and mystery as told by those who lived through it, this is a perfect book for you.  400 pages with 400+ murders is yours to contemplate in this book, ranging from bar-room brawls to Indian attacks, Bushwhackers and Jayhawks, domestic disputes and claim jumpers.
Order Now!
About the Book
"Snatched from its mother's lap, the babe was later found lifeless, thrown in the river. Crime stalks abroad in our land, and day after day we are called upon to chronicle deeds of atrocity unparalleled in the calendar of blackest villainy," wrote one observer. In this book you will find eyewitness accounts of the most shocking and deplorable murders committed in Kansas during the territorial years. Between 1854 and 1869, the hearty pioneers of Kansas – and some just traveling through – endured many exasperating hardships including the ever-present danger of murder by the Border Ruffians, Jayhawkers, and Quantrill's Raiders. Angry Indian tribes, soldiers from the Forts, claim jumpers, neighbors, and even bar-room buddies could kill you in the most brutal fashion at any time. Guns, knives, poisons, arrows, rope, and rocks were all convenient weapons, and did their job most effectively during those years of vigilante justice and limited medical assistance. This book contains hundreds of period newspaper stories reflecting the details as well as the editor's unique and very clear expression of shock and grief as each murderous affair was announced to Kansans – and to the nation – during some of the most turbulent years of Kansas history. "A more villainous and unprovoked murder we have not heard of in the Territory" is one of the true Prairie Tales found in this book. Another reporter described "the most atrocious and cold-blooded murder which caused the most intense excitement." The victims, the lawmen, and the heroic efforts of those in the community to apprehend the murderer must always be re-told, and never be forgotten.Blowing the dust off of these amazing life and death stories, you will marvel at the chilling details experienced by these early settlers, as written by these tireless reporters. You will read of lynchings and executions, and some of the last words of those who died. You will read what others feel after reading "one of those outrageous acts that frequently disgrace all frontier towns it has become my lot to chronicle" and "we are called upon to chronicle the most inhuman, dastardly, and cowardly case of murder that ever occurred in any community, as having transpired in our City." No reader today will be unaffected by this compilation of shocking, real-life accounts rescued from former newspaper editors' files.